Let's go out with a BANG!
Day 6: Liberation, part 2.

Becky. Look at he–oh wait. Serious time. THIS is the final boss of the game. Except if it touches Aya, she dies.

Gee, brain, are you thinking what I'm thinking?

Time for a good old fashioned chase sequence. We need appropriate music.
"Green Hornet" by Al Hirt from the Kill Bill Vol. 1 soundtrack. Good selection.

Right now, the little bastard crawls. Enough time to chillax and not worry.

Aya stops to IM her friend.

Aya's a thinker, let me tell you.

OH FUCK FUCK FUCK!

WE'RE IN THE JUNGLE BABY! YOU'RE GONNA DIE IN THE JUNGLE!!!!!

Aya's pretty bad-ass, too. But, the chance to quote some GnR? Hells yes. TRANSLATORS!

NOW THE BASTARD CAN FLY!

Will she make it?
WHEN SUDDENLY!!
No. Wait. This isn't how it happens. Let me think about the story some more..
(Video, obviously.)

Let me tell you the way it really happened.

You know, Aya better be able to swim.

Shit blows up. We kill it with fire. Which is a fitting end, since Eve burned people.

Aya heads to shore.

Danny boy: It's finally over…
Aya: ….. I don't understand… Why do "I" have this… "power"…?
Maeda: It's because… Maya is inside of you, too, Aya…
Aya: What?…
Danny boy: When your mother and your sister died, they transplanted a part of your sister into you.
Aya: Into me?
Danny boy: Yeah… When you were seven. You probably don't remember any of it… but… You were botn with a defect in your right eye. And so Maya's cornea was transplanted into your right eye…
What?! How can you not remember something like that?! Goddamnit I hate Aya.
Aya: My right eye?! Then, what I saw when I touched Eve was…
Maeda: It's said that when you have an extreme experience… what you see then is branded onto the cornea… But this hasn't been scientifically proven.
Aya: That was… Maya's last memory? That was the last thing she ever saw…?
Note how this in no way explains the ghosts that kept leading Aya around. And nothing ever will. It was a mitochondria hologram or something.
Maeda: As for the mitochondria that was in Aya's body… I think it underwent a different evolutionary change than Eve… By living symbiotically with Aya's mitochondria, it still possessed Eve's power. From there, it evolved to the point where it could… live symbiotically with the human nucleus…
Aya: Me and… Maya… our… mitochondrial power…
Maeda: Starting with the incident in Japan and now with this… I wonder if this is a message to all mankind…
Danny boy: Message? What kind of message…?
Maeda: How can I explain…? If the earth is a single human being, we humans that invade the earth become like viruses out of control. We, in essence are upsetting the natural balance of the body. This is definitely… utter destruction.
Danny boy: No… we're… we're not that weak…
Maeda: You see… humans are, in essence… parasites… You can say that we are parasites and the world is our host.
Aya: ……
HOW IN THE HELL DID HE MAKE IT!?!

Fade to black. We're done.

The sun will wash everything away.

Can we be done now?

This is slightly familiar.

This is the perfect place to go. I'm sure there's no memories attached to this place.

I swear, if shit stirs up again, you all are dying.

But where's..?

Oh good. The awkward one.

Somebody likes Aya.

Cut. Fade to black. Happy ending.

MAKE YOUR MOVE!

Not good around girls?

That's how you become a playa, Maeda!

Cockblocked by a 10-year-old. You're awesome, Maeda.

"Maeda: ..Er… uh… Damn."

This is oddly familiar.

Oh. They're doing that play, again.

This is about where all the bad Mojo started LAST TIME.

OH FUCK! FUCK FUCK FUCK!

All: WHAT in the HELL is THAT!?

Oh. It's just a prop. Nothing major.

Crisis adverted!

Good. Everything's good.

Aya's chillin'. Havin' a good time. No PTSD.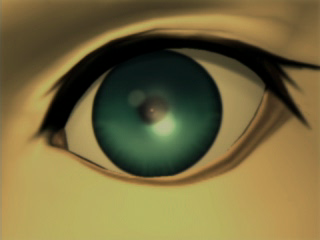 What's wrong with her eye..?

OH FUCK!

But. But. But. Those are the bad mitochondria. Not the good. Aya's cells killed the bad ones, right? WHAT THE HELL!?

Uh. Uh..guys?

Guys? This isn't happening. This isn't happening. Bad dream. Bad dream.

THIS ISN'T A GOOD HAPPY ENDING!
(To understand this, read the first update, or just this next line.)
"Actress: The more you use that power, the more you will become like… me…"
Remember what Eve told us? It seems as though she was..right.
The end.
Seriously.
I'm not kidding you.
It's as 'wtf' to you as it is to me.
A square game with a non happy ending.
Not happening.
I think I've delayed this long enough.

Wait. What the hell good are Bonus Points at the end of the game?

And a Data save? And what the hell does 'EX' mean?

Alright…

Or, in my case, the disc image. Ripped from my own copy.

Sure thing.

What the hell is the EX Game?
If you want to know, you'll just have to come back and find out! (Eventually.)
Exclusive content on MY internets? Hells yes!