Massive massive picture update. For this update alone (for right now), you get about 90% of it in pictures. Yes, there is a reason why. You'll figure it out as you reach the end of the update.

Behind door number 3 is guards. Might as well stare at their asses and find out whigh one's female.

Or make noise and listen to how they react. For instance, this one has a female voice.

Is she going where I think she is?

oshit

Meryl : That's the second time I've been able to sneak up on the legendary Solid Snake.
You're Meryl? There's no way you could pass for a man for long.
Meryl : What do you mean? Hey! Men aren't allowed in here.
I had no idea you were so feminine.
Meryl : This is no time to try and hit on me, Snake. Besides, it's a waste of time. When I joined up they gave me psychotherapy to destroy my interest in men.
Same smart mouth. You're Meryl all right. Are you hurt?
Meryl : Not yet. After all, I was disguised as a Genome Soldier.
So why'd you change? You'd be better off dressed like one of them.
Meryl : I got tired of disguising myself. The truth is… the uniform smelled like blood.
There was something important in there. What was it? You'll see.

What's that mark?
Meryl : Huh? Oh, this? It's a paint tattoo. It's not real. I was a fan of FOX-HOUND way back. When guys like you and my uncle were in it. None of that gene therapy like there is today. You guys were real heroes.
There are no heroes in war. All the heroes I know are either dead… or in prison. One or the other.
Snake tells it how it is. Again.

Meryl : But Snake. You're a hero. Aren't you?
I'm just a man who's good at what he does. Killing. There's no winning or losing for a mercenary. The only winners in war are the people.
Meryl : That's right. And you fight for the people.
I've never fought for anyone but myself. I've got no purpose in life. No ultimate goal.
Meryl : Come on.
It's only when I'm cheating death on the battlefield. The only time I feel truly alive.
Meryl : Seeing other people die makes you feel alive, huh? You love war and don't want it to stop… Is it the same with all great soldiers throughout history?
You may remember some of these lines from my Chrono Trigger threads.

Why didn't you contact me?
Meryl : My Codec was broken.
Is that all?
Meryl : Shouldn't you just be happy that we met up like this!? How did you recognize me in disguise?
Wait for it.

I never forget a lady.
Meryl : So there's something you like about me, huh?
Keep waiting.

Yeah, you've got a great butt.
Meryl : Oh, I see. First it's my eyes, now it's my butt. What's next?
On the battlefield you never think about what's next.
Meryl : So Snake… how are the negotiations doing?
No progress.
Meryl : So, it's all up to you, huh?
Somebody's got to prevent them from launching a nuclear missile.
Meryl : There are two ways. Either we destroy Metal Gear, or…
…we override the detonation code. You got the card keys from Baker?
Meryl : Card keys? You mean this?
Snake is such a charmer. Shit. If I were to go up tot he lay-diez and say that, I'd probably get smacked.

Where are the others? There should be three keys.
Meryl : This is all I've got.
Where could the other two be?
Meryl : I have no idea, but they must be somewhere. If we can't find them we'll have no choice but to destroy Metal Gear.
Metal Gear is in an underground maintenance base to the north.
Meryl : Take me too. I know this place better than you do.
You'll just slow me down. You don't have enough battle experience.
Meryl : I won't slow you down. I promise.
And what if you do?
Meryl : Then you can shoot me.
Interesting proposal.

I don't like to waste bullets.
Meryl : Got it. I'll be careful. Y'know… I don't use makeup the way other women do… I hardly ever look at myself in the mirror. I've always despised that kind of woman. I always dreamed of becoming a soldier. But I was wrong. It wasn't really my dream. My father… he was killed in action when I was younger.
You wanted to follow in your father's footsteps?
Meryl : Not really. I thought that if I became a soldier I could understand him better.
So are you a soldier yet?
Meryl : I thought I was until today. But… now I understand. The truth is I was just afraid of looking at myself. Afraid of having to make my own decisions in life. But I'm not going to lie to myself any more. It's time I took a long, hard look at myself… I want to know who I am, what I'm capable of. I want to know why I've lived the way I've lived until now. I want to know.
Yak yak yak. Geez. Snake just wants to kill some people, and Meryl just gabs and gabs.

Take a good look. You won't get anothert chance for a while. You should wash your face while you're at it. This isn't a training exercise. Our lives are riding on this. There are no heroes or heroins. If you lose, you're worm food.
Meryl : Yeah.
(Snake spots Meryl's FAMAS on the ground.)
Is that FAMAS functional?
Meryl : Unfortunately it's out of ammo.
Where'd ya' get that Desert Eagle?
Meryl : I found it in the armory. It's a .50 caliber Action Express. There was a SOCOM pistol too, but I chose this.
Hmmm. So I got a leftover, huh. Isn't that gun a little big for a girl.
Meryl : Don't worry, I can handle it.
(Snake holds his SOCOM out to Meryl.)

C'mon. Use my .45.
Now you treat her like a woman?

Meryl : Listen, I've used a gun like this since I was 8 years old. I'm more comfortable with it than I am with a bra. If we're going to go to the north, we'll have to go through the Commander's Room on this floor. The overland route is blocked by glaciers. The door to the commander's room is security level five. This card will open it.
(Meryl pulls out a card, you can guess from where.)
Meryl : It was inside the pocket of the uniform I was wearing.
Looks like he must have been guarding someplace important.
Meryl : Okay, let's go. I know this place better than you. I'll be point man. Follow me.
MASSIVE IMAGES START NOW.
S = Snake
M = Meryl
C = Campbell
N = Naomi
P = ?
M

M

S

M

Something's going on.
M

S

M

S

S

What in the hell is going on here?
M

M

M

M

She's not speaking with her own voice.
M

M

M

S

M

What happened to Meryl all of a sudden?
M

S

M

M

S

No, seriously. What's going on with Meryl?

Psycho WHO?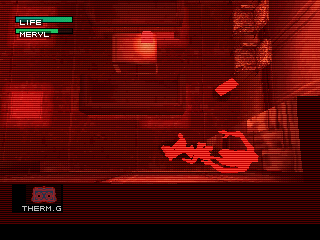 There's been three people in this room all along?!
P

S

S

P

P

It seems like a pretty good trick, Snake. Especially if I've been using it half the game.
P

P

P

P

P

Great.
P

P

P

P

You ain't going to find much except for "KILL THE FREAK WITH C4! BLOW SHIT UP! KILL KILL KILL! Hey, she's got a nice ass. KILL KILL KILL! EXPLODE! No, really, it's great–I hope she's 18. KILL!"
P

P

It's probably going to be the same thing. Really. Though, they throw a neat trick at you which was really unheard of at the time.
P

P

P

P

P

P

P

How the hell is he figuring all this out? I know why, can you figure it out?
P

P

Oh, great.
P

P

P

P

Please tell me you get it now. This was AWESOME. If you had other Konami saves, he'd say things about them making you wander HOW HE KNEW!! And if I have a vibrating controller, he would ask me to put it on the floor, and he'd move it with his 'will'. Holy hell, was that awesome.
P

Great.

This is where there'd be a black "HIDEO" overlay. What's so important about that? You'll see.
P

It's because I'm using the other side of my brain.. Oh, forget it.
P

P

P

P

P

M

S

Yes, if Meryl suicides, you get a game over. It's the LITTLE things.
P

P

Hahaha.
S

C

S

N

N

N

N

N

S

N

C

C

S

N

Man, Naomi's a -bitch-.
P

P

S

S

P

P

Wait, what? He just said he couldn't!
P

P

P

P

P

P

P

Alright.
S

P

P

P

M

P

P

P

P

What did Meryl see?
P

P

P

P

P

P

P

P

P

What on earth is he going on about, and why do I care?
P

P

P

You know, deep down, he's probably right.
P

P

P

P

P

Can't he just die. I don't like character development when they're dying.
P

P

P

S

S

P

P

What is he going on about? Why is his death speech long and un-needed.
P

P

P

P

Hm. And how many did you end up offing?
M

S

S

He's been going on for the last seven minutes. Anyone else who takes multiple gun shots is usually dead quick.
P

P

P

P

P

Oh, don't think you're so much better than I am.
P

S

P

P

S

P

What does that mean!? Hurrr.
P

There's a reason why this one is singled out. A very important reason.
P

S

P

S

P

P

P

P

Alright. But, seriously, they have medication for that kind of stuff.
P

P

Find my future? DIE ALREADY!
P

P

P

P

P

P

oshit. I didn't mean it.
S

M

S

M

S

What a guy.
M

S

S

M

M

Good advice.
M

S

WHAT!? I want to play the damned game already!!!
M

M

S

M

What the hell does she want to know?
M

M

M

S

M

S

Why is this important?
M

S

M

S

M

M

Is she trying to prove something here?
S

S

M

S

Wonderful, can I continue with my mission, yet!?!

That's what I meant by "The other side of my brain" and what Mantis meant by "the other..". If you use port 1, he can read your moves, if you use port 2, he can't.
Yes, this was image'd out at the end, but it was for a good reason.