I guess this is where we need to go.

(Harvest)

Alright.

No one's home. Fuck it, guys, let's go bowling.

FURRIES

Galuf..likes furries? He just lost like 20 cool points.

Who the?

There was a furry in the Warriors of Dawn? FUCK!

Thank you for writing my response for me, Butte.

God damnit, furry, listen to Galuf.

The chance to beat the crap out of a furry? YES!

All-RIGHT!

The furry goes all SSJ on our ass. I guess it's repressed anger.

Haha, what?

Where'd you learn that trick? Goku?

Look out, Butte!

FUCK YES!

"I know, mang, you don't have to say it. I did a great thing today."

You want another match? I'll show you 'pretty good'.

Huh? Why is that so shocking?

Well?

WHAT?

You catch on quick. Butte.

Not another flashback.

So, everyone but Butte's dad was a dick?

You know what I like about this game? No EMO character. There's also no romance sub-plot.

Here we go.

Done!

No reason. Just because.

Good question.

Good.

Naw. Get your own damned frog.

Alright, let's get this over with.

What the hell?

Strong defense. Makes cure hurt.

WEEEEEE!

That's what the butan did.

Looks like he brought friends.
PROTIP: Don't attack Golem.

New summon!

Let's pluck this thing and go home.

Master of the obvious!

WHAT THE HELL IS THAT!

Probably.

And now you have to back track. There's no easy way off this mountain.

These guards are a little -too- good.

Your brain to catch up with you.

This lets us back in.

Haha, yeah. By the way, your paycheck? Gone.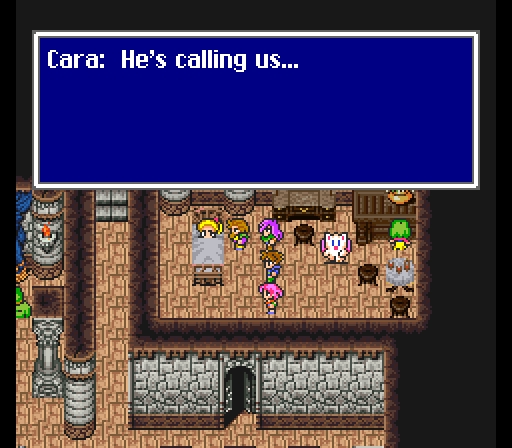 Who in the hell is that?

Who in the HELL!?

Oh. Okay.

Everyone points out the obvious.

If you'd shut up, we'd go.

The dragon-thing has very good logic.

WHY IS SHE SO RETARDED!?

But now the dragon-thing will catch the retard.

Uh. She don't look like she can drink. Care to join the party, little girl?

Wait for it.

HAHAHAHAHA! Cara has the third best line in the game. Tired for first is Butte and Galuf's 'Shit!'

Good.

That don't look 'fine'.

Butte, with the awesome, albeit obvious, response.

Alright! Let's go guys!
What will Guido have to say?