Alright, let's find out what this guy has to say.

Haha. I like to torture him the best I can.

Get it?

I guess this guy doesn't want anyone seeing him.

The encounter rate is high here, too.

Thank you, Captain.

Well, it's not Teenage, Mutant and/or Ninja. So I don't think we have anything to worry about.

Okay, I give up, he is fucking retarded.

NOT GOOD! ABORT ABORT

Nah, that was just Galuf throwing his voice. You can kick his ass later.

Masters of the obvious, or lame? You decide.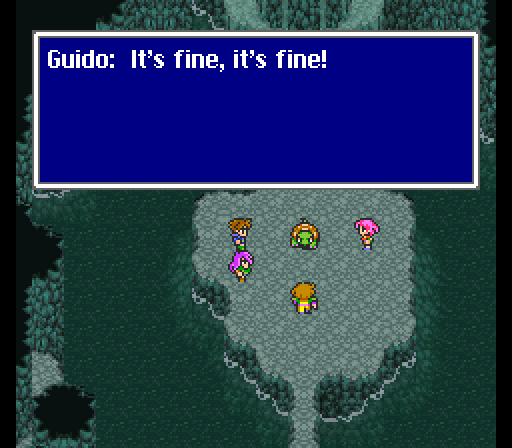 But let's stand around and talk about it. Oh, and you have to backtrack through my cave, too.

Wait. Exdeath was born in a forest? HE'S A FUCKING HIPPIE!?! That's IT, I'M SO done with the STUPID..wait.. I get to kill hippies along with furries? SIGN ME THE FUCK UP!

I have a bad feeling about this next image.

THE BAD GUY IS A FUCKING TREE!?

Yes it. Don't believe his lie.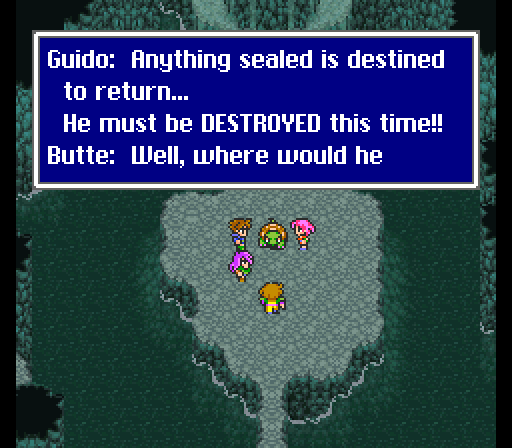 Alright, mang. Let's go kill the hippie tree thing and be done with this train-wreck. Which is sad, it was set up for so much more better than a fucking tree. SQUARE!!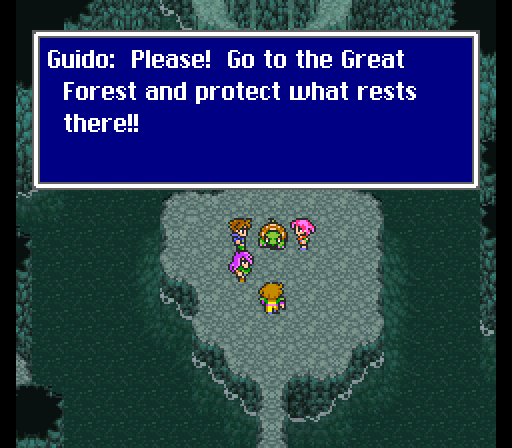 Rockin'.

This is turning out pleasant.

Now we backtrack to the sub. Imperative, my ass.

Somewhere in this world is the forest.

Look! Forest! YAY!

Insert witty sexist comment here.

I honestly completely forgot the sub could surface.

Let's see where this leads us.

Oh. Hey. Wow.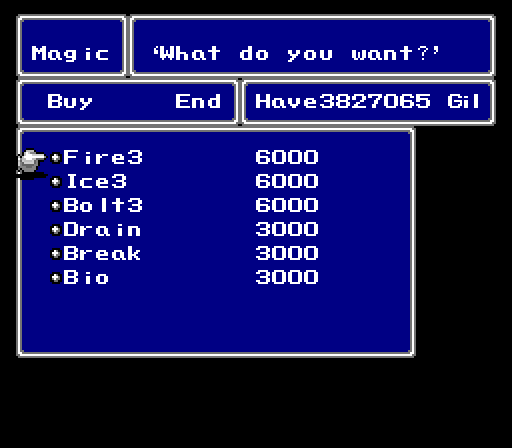 New magics! Yaaaaaaay.

Oh no.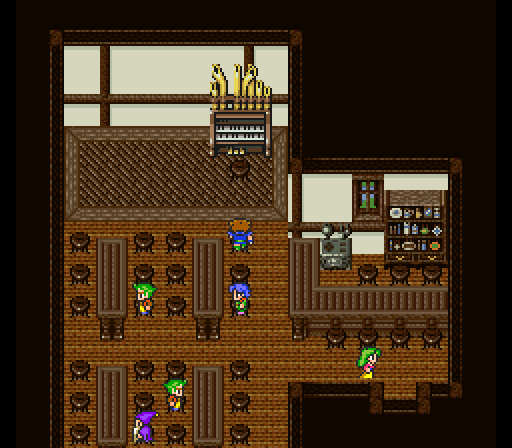 No no no.

(Piano Lesson 7) I wish I could get better at the piano by banging on seven pianos.

Fuck yes!

Fuck you!

Even Butte doesn't look happy.

I wonder.

I guess so.

Tough puzzles await.

Yeah. Shut the brain off.

Man, you guys are clumsy.

Smokey would not be pleased.

We're gonna diiiieeeeeee.

Let's follow it!

Let's chillax.

Wonderful.

Ah huh huh huh. Wood.

What about it?

Well, if this isn't freaky, I don't know what is.

Trapped.

This is going to be fun.

These whores get an attack each before you do anything. The four attacks do about 2000+ damage total.
SQUARE!!!

Too bad we make short work of them.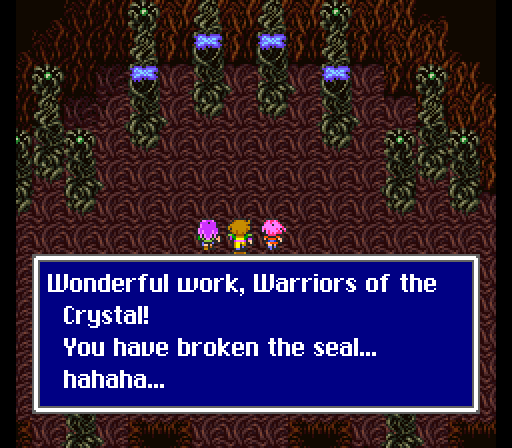 I can't take Exdeath seriously now. =[

What in the hell is going on here?

We're so fucked.

The bad guy..wins? This is interesting.

What can she do?

Fucked fucked fucked.

Shit, she's pretty good.

DAMNIT!

This isn't exactly turning out well.

He would stoop so low as to..? Huh, okay. But he's still a FUCKING TREE.

Well, I guess we're totally not completely fucked, yet.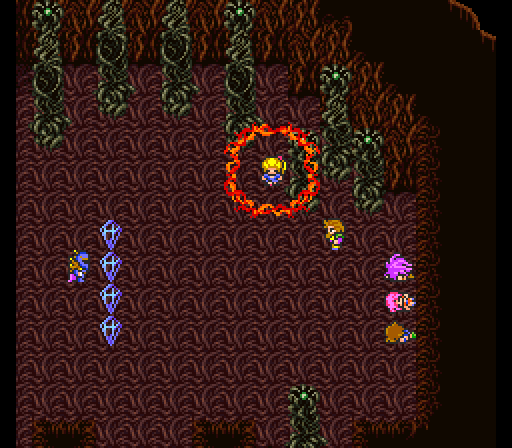 Holy shit, he's fighting the crystal's power. Bad ass.

What would you do?

The correct answer is "Fuck you, fucking tree."

NOT COOL.

Oh, it was just Galuf going SSJ2.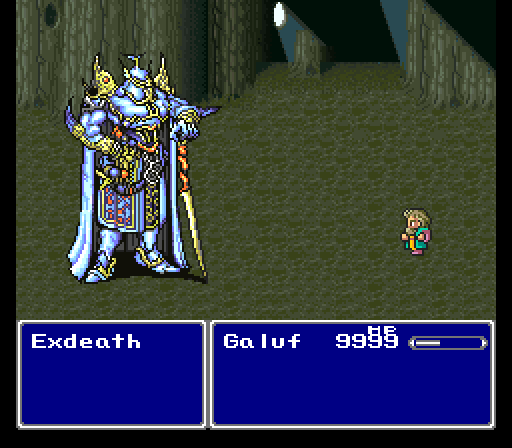 This is certainly fair.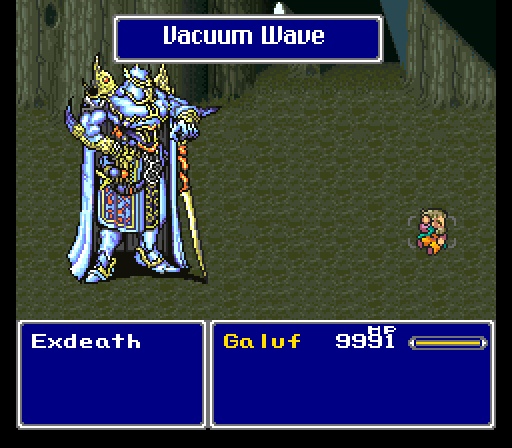 This attack sucks Galuf's HP and continues depleting them until..

Uh oh.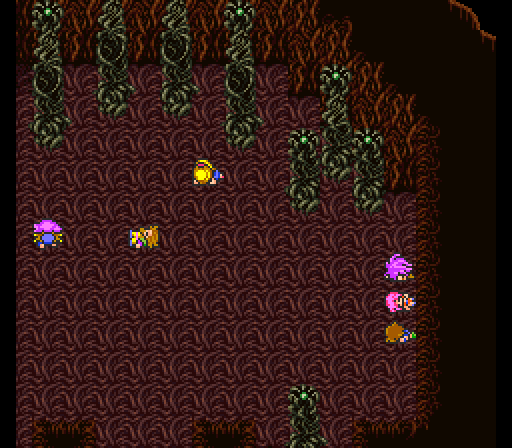 This isn't looking too good.

Not good at all.

Stop kidding around like that, Galuf.

No way, he can't. NOTHING BAD EVER HAPPENS TO MAIN CHARACTERS! YOU HEAR ME SQUARE?!

! They did not just go there!
THEY'RE INTELLIGENT!
THEY'RE TRYING TO USE HEALING ITEMS ON HIM!
This is unheard of, and will never happen again.
WHY SQURE, WHY!?!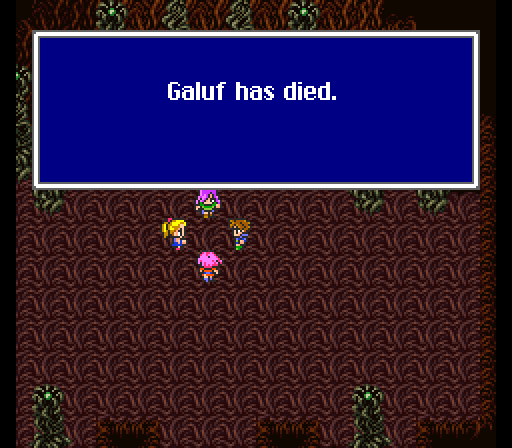 ARRRGGGHHHH! SQUARE! SERIOUSLY! FUCK YOU.
Galuf was awesome.

SQQQQUUUUAAAARRRREEEEEEEEEEEEEE!
Galuf also started another 'tradition'. Being a main character that actually dies in the story. The other tragic member includes Aeris. At least Butte and the crew TRIED to heal him.
Fuck you Cloud.
And fuck you Square. Too many people have died in this game.