Well, this sure -looks- like home. Huh.

Didn't they already know this?

How do they know this?

Is that 'your' right? I can't tell, because we don't know who he's addressing.
Let's just assume it is.

I think Butte likes. Retarded or not, he gots taste.

This looks suspiciously like her 'Dancer' sprite. Except the overworld sprites are all the base no job sprite. Hm.

I think Butte is in lust, since there is no forced romance sub-plot. This still doesn't make up for all the deaths, Square.

Why's she taking off?

I don't see the problem, because we killed the FUCKING TREE. (If you think I'm ever going to drop this..)

Let's get our other two members and get the hell out of here.

Well, that's out of the question.

Is it a..Big Bridge? So I can hear the awesome again?

Because Butte is a chicken-shit around heights.

They're not taking this seriously. Again, awesome.
By the way, Butte? She's 13. Don't get any ideas now.

(Go go Boco!) I wonder.

At least Boco got some tail.

I've been wanting to ride Boco for the last 6 hours. (I've only played around 7 or so.)

Boco can cross shallow bodies of water.

Now that's just not fair.

FUCK.

I can't tell? Retarded or not caring?

Yeah, stupid chicken. Your fault.

It escapes before you can kill it. Sorta.

(What?) What?

HAHAHAHA.

HAHAHAHAHA!

Who the hell?

Mine.

This is funny to watch. I think those two get along so well because they're the same age, mentally.

That's what I thought.

I'd say you're screwed. I haven't seen a doctor all game.

It's the turtle thing.

Hur hur hur.

But what?

Good question.

Sounds interesting.

And here I thought we were going to skip the 'children challenging God' idea.
SQUARE!

Well, this isn't turning out happy.

No. Don't EVEN tell me.

OH, FUCK THIS!

Stop writing my responses for me, Butte.

Shut up, you FUCKING TREE.

FUCK.

Kick his ass, sea bass. He's just a FUCKING TREE.

Feeling of dread? Check.
Non candy-coated? Check.
Bad guy actually changes the face of the world? Check.
Bad guy has awesome backstory? (Fuck it guys, let's go drinking.)
This had SO much potential. Until the FUCKING TREE part.

SQUARE!

Oh, fuck this.

Another main character dies? SQUARE!

You know, he'd be 10 times more awesome if he wasn't a FUCKING TREE.

Yeah.

Turtle -vs- Tree. Who will win?

Oh?

CHEAP SHOT!

Huh?

Yeah, we saw this coming, didn't we?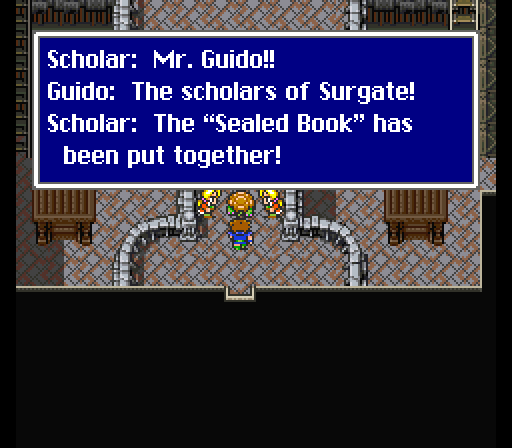 Of the minds? Leave Butte out, then.

Kiss our asses good bye?

Yeah. It's still in two?

Are they trying to make this more of a Train-wreck?

Yes, they are.

And where are they?

Okay. Sounds easy.

There's always that clause, isn't there?

This sounds friendly.

Great.

Oh, thanks. Not what I wanted to do today.

Suspicious?

WON-derful.

Yeah, THANKS SQUARE!

Sure we will.

Greeeeaat.

Piece of cake.

That's what they told us.

I just love the amount of detail put into this game.

He looks familiar.
Ah, yes. The 'Brothers' summon from FF8. I wonder..

Get it?

Reduces MP cost by half.

Hell yes!

Not good.

Uh, but that's where the airship is..

FUCK FUCK FUCK!

That tells me where NOT to go.

Let's go get it.

YES! I almost take back all the dirty things I've said about Square so far. Almost.

What the hell?

TREE!

Oh, this is just wonderful.

Ohhh, FUCK YOU, FUCKING TREE.

We're completely fucked, aren't we?

Hell yeah!
Except I think the Dragon thing died.
SQUAAAAAAAAAAARE!

Helllooooo, collection of pixels.

Let's go, before anyone else dies.

Good idea, little girl.

Good idea, Butte.

Oh, this is turning out real good..

TREE! *fist shake*

SQUAAAAAAAAAAAAAAAAAAAAAAAAARRRRRRRRRRRRRRRRREEEEEEEEEEEEEEEEE!!!!!!!!!!!!!!!!!!!!!

Dude, chillax. Flipping the fuck out is entertaining, but it ain't gonna help.

…

Think so.
DECISION TIME! That means you people out there following along can help.
Here's the Weapons:

Excalibur

Assassin Dagger

Sasuke's Katana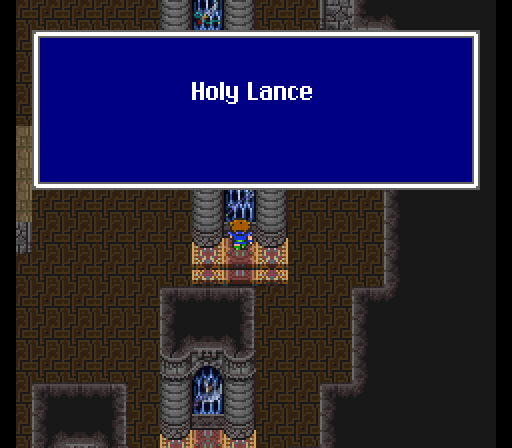 Holy Lance

Rune Axe

Masamune

Yoichi's Bow

Firebute

Sage Staff

Wizard Rod

Apollo's Harp

Earth Bell

Well?